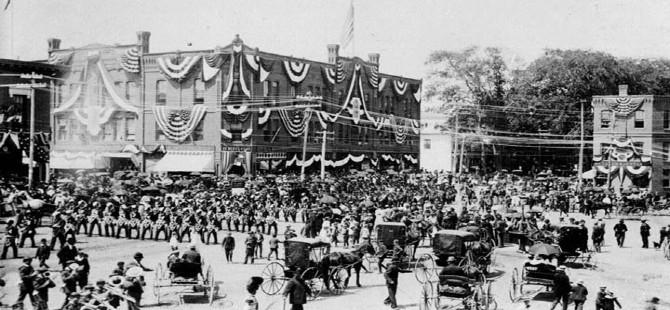 Historic District Commission
The purpose of the Historic District Commission is to review exterior development proposals within the Historic District (a zoning district within the downtown area). This review of development includes new and/or changes to existing structures, signs, and landscaping
Term: 3 Years
Meeting Schedule: 4th Thursday of each month at 6:00 PM at City Hall
Appointments made by: City Council
_______________________________________________________________________________________
_________________________________________________________________________________________
_________________________________________________________________________________________
______________________________________________________________________________________
______________________________________________________________________________________
Meeting Recordings
Board Members
Term Expires
Seat 1
Erin Cohen
03/31/2024
City Council Representative
James Contois
12/31/2021
Jim retired from the Department of Defense in 1994. A transplant from Albany, NY, Jim came to Claremont in 2004. During his "retirement" and since moving to Claremont he has held a position with Homeless Services (SCS), he has been a paraprofessional at 2 Claremont elementary schools, a contract worker with Juvenile Probation and is currently the Interim Director of the Claremont Senior Center.
Jim continues to learn about the proud history of Claremont as the treasurer of the Claremont Historical Society. Jim is always looking for ways to help guide Claremont to it's full potential as a city and home to many fine citizens and their families.
Jim is a first term Claremont City Councilor whose interests are environmental justice, social justice, and racial justice. In his private time, he is a proud and active grandfather.
Jim is a graduate of Hudson Valley Community College with an Associate's Degree in Individual Studies, 1998 and the State University @ Albany, NY, B.A., summa cum laude, Degree in Political Science, 2004.
Seat 3
Jonathan Nelson
03/31/2024
Chair
David Messier
03/31/2022
Planning Board Representative
Richard Wahrlich
03/31/2022
Seat A-1
ALTERNATE VACANT
03/31/2022
Seat A-2
Bill Kennedy
03/31/2023
Seat A-3
ALTERNATE VACANT