A GREAT NIGHT FOR EVERYONE IN THE FAMILY!
Dads, Granddads, Uncles, adult brothers or family friends - here is your chance to create an unforgettable memory for that special little girl in your life!
When: Friday, February
Municipal Resources Inc. (MRI) has set up an email address for community/stakeholder input. This is a way for the community to tell MRI, confidentially, what they think are important traits and any concerns they may have, that will help inform the MRI team during the City Manager
CLAREMONT KINDERGARTEN REGISTRATION
Kindergarten pre-registration begins Monday, January 24, 2022, for all incoming
kindergarten Claremont students for the 2022-2023 school year. In order for your
child to qualify for
Every home in the U.S. is eligible to order 4 free at-⁠home COVID-⁠19 tests. The tests are completely free. Please use this link: https://www.covidtests.gov/
FACT: Half of home heating fires are reported during the months of December, January, and February.
There is something about the winter months and curling up with a good book by the fireplace. But did you know that heating equipment is one of the leading
Extreme Cold Weather Resources
In the event of extreme cold temperatures outside we want to remind residents that they can use the common areas located inside the Claremont Savings Bank Community Center (membership not required) or the Fiske Free Library as a warming
Have you heard about Sullivan County's Prescription Drug Discount Card Program?
Any county resident may use the program.
There are no claim forms to fill out, no membership fees, and the card can be used for the whole family – even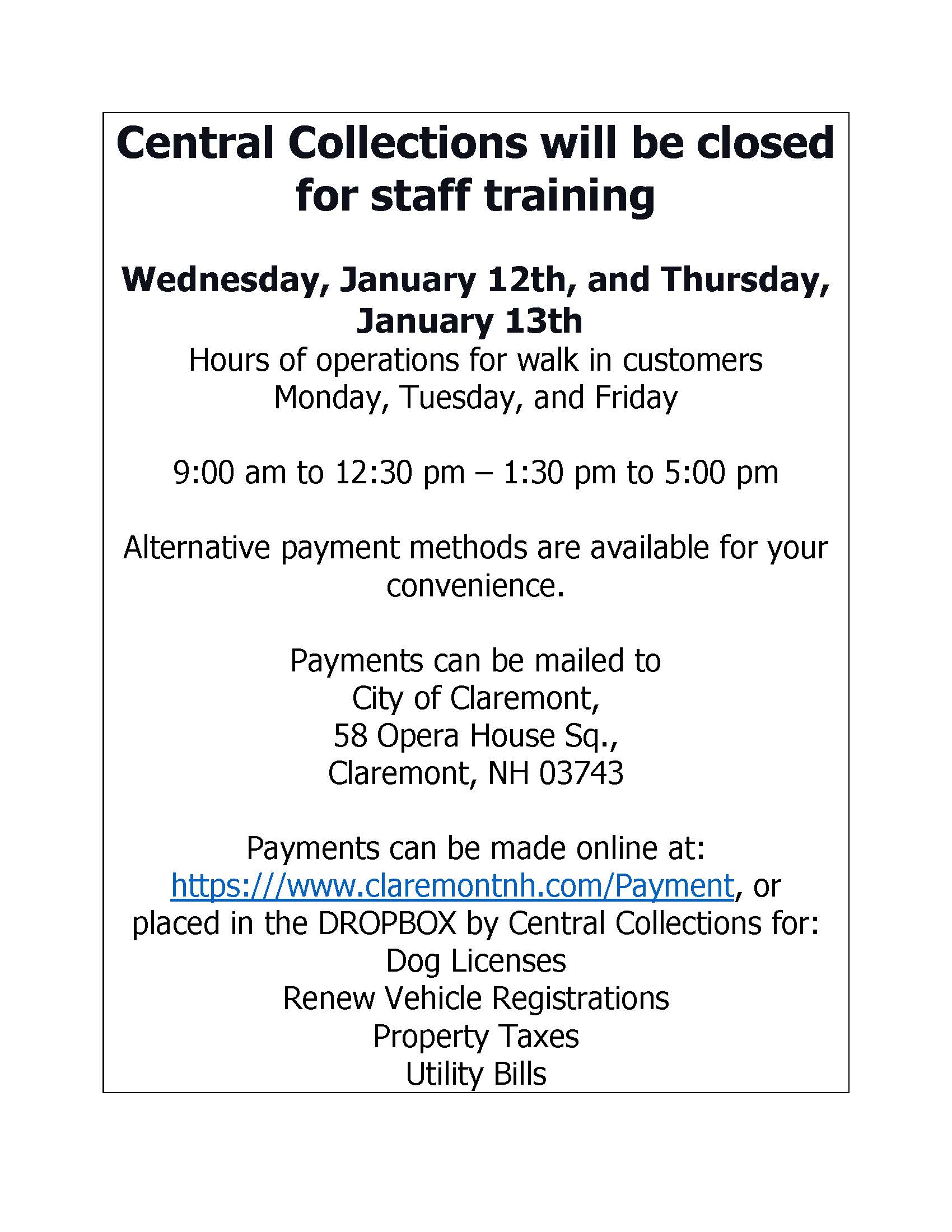 Central Collections will be closed for staff training
Wednesday, January 12th, and Thursday, January 13th
Hours of operations for walk in customers
Are you an engineer? Have experience in construction, mechanics, plumbing? Licensed electrician? Then you would fit perfectly on the Board of Appeals!
The Board of Appeals is made up of 5 members with 2 alternate members. It is appointed by the City