Department of Public Works
The Claremont Department of Public Works is the custodian of the City's physical infrastructures and facilities. Such infrastructure has been developed or acquired throughout the years to provide transportation systems, water and wastewater systems, solid waste disposal, and cemeteries. As such, these systems facilitate the achievement of common, social, and economic objectives for the citizens of Claremont. The mission of the Public Works Department is to fully maintain all aspects of the City's infrastructure, physical plant and equipment. We are committed to this mission and quality workmanship, while exercising overall fiscal responsibility.
MUD SEASON

The quick change of temperature, very high water table, rain in the forecast and amount of freeze thaw cycles we had this winter has caused the dirt roads to become almost impassable today.
Please be patient as we can only patch the roads during this season. The weather early next week goes below freezing and thaws later in the week so this situation will happen again. This same thing happens under paved road so the structure is fragile.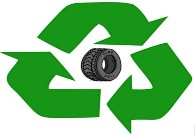 IT'S EARTH DAY IN THE CITY OF CLAREMONT
TAKE PRIDE IN YOUR NEIGHBORHOOD!
We are asking our community to come together with the common goal of cleaning up the city of used tires.
Claremont residents may drop off car and/or light truck tires (Less than 20" – with or without rims) for FREE!
WHEN: SATURDAY, APRIL 24th, 2021 – 8:00 AM TO 3:45 PM

WHERE: TRANSFER STATION – 875 WASHINGTON ST.

Please note: Businesses are not eligible to participate. Residents must have transfer station decal.
The Spring Cleanup Project will begin on Monday April 26, 2021 through Friday, April 30, 2021. Leaves and grass rakings must be left at the curbside in paper, compostable leaf bags.
Per City Council Policy adopted on May 12, 2004, the Public Works Departement will no longer accept or pick up leaves that are not in paper, biodgradable bags. These 30 Gallon bags are available at various local hardware, grocery and department stores.
All compostable, paper bagged leaves must be at the curbside by 7:00 am on Monday, April 26, 2021.
No garbage, brush or household items will be picked up. All areas will be covered only once.
Public Works Hours
Address: 8 Grandview Street, Claremont, New Hampshire 03743-2677
Phone: 603-542-7020
Fax: 603-542-7022
Office Hours: Monday-Friday 7:00 am-4:00pm
After hours: 603-542-7020 voice messaging system
After hours URGENT: 603-542-9538 Police Dispatch, On-Call Foreman
Transfer Station
Transfer Station is open Tuesdays and Saturdays 8:00 am to 3:45 pm.