Fiske Free Library
Library Hours:
Contact Us:
(603) 542-7017
| | | | | | | |
| --- | --- | --- | --- | --- | --- | --- |
| Monday | Tuesday | Wednesday | Thursday | Friday | Saturday | Sunday |
| 9AM - 5PM | 11AM - 7PM | 9AM - 5PM | 11AM - 7PM | 9AM - 5PM | 9AM - 1PM | Closed |
Fiske Free Library Summer Reading Program
Oceans of Possibilities!
How big is a whale?
How do seals stay warm?
What do they eat?
Explore these questions and more with hands-on activities presented by the Marine Docents from the University of New Hampshire.
After the program, draw your favorite sea creatures on our walkway with sidewalk chalk!
Wednesday, June 29th

1:00 PM

Fiske Free Library Front Lawn
This program funded by Sea Grant New Hampshire.
Oceans of Possibilities!

Squam Lakes Natural Science Center Presents:
Aquatic Critters!
A live animal program presented by Squam Lakes Natural Science Center.
Learn how water is essential to life on our planet!
Tuesday, July 12th

2:00 PM

Fiske Free Library
This program is funded by the Friends of the Fiske Free Library.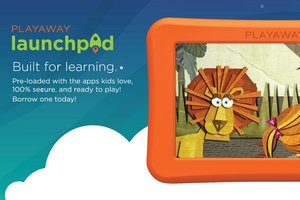 The library now has available for checkout Launchpad educational tablets!
Pre-loaded with content for children and teens, Launchpads are designed with a simple, easy-to-use interface, and are 100% secure.
No download time. No need for Wi-Fi. Access to powerful content is as simple as turning on each device — anytime, anywhere.
This project was made possible in part by the Institute of Museum and Library Services and the New Hampshire State Library.
About Us
Samuel P. Fiske established the Fiske Free Library in 1873 with 2,000 volumes from his personal library and $5,000 for the purchase of additional books. An additional $5,000 was given by Mr. and Mrs. Fiske to establish a permanent trust fund. Housed first in Stevens High School, the library moved in 1877 into the Bailey Block with more room and easier access. By 1902 space was again tight and Andrew Carnegie was approached for funding. In 1903, with $15,000 in funding from Carnegie, ground was broken for the present building. An addition in 1922 and a full renovation in 1966 expanded the entire building for library use.