Claremont Parks & Recreation
The Claremont Parks & Recreation Department is dedicated to providing quality recreational facilities, programs and services to enhance the quality of life for the residents of Claremont and the surrounding region.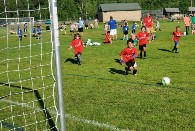 CYSA Summer Soccer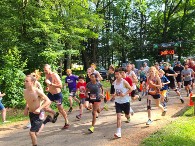 All Out Trail Run
The All Out Trail Run will take place in Moody Park on a 4.61 mile course. All proceeds go to The Parks and Recreation Department.
Start / Finish Location: Moody Park, 152 Maple Avenue, Claremont, NH 03743.
Race Start Time: 9 AM
- Race will start at the bottom of Moody Park again this year.
- Parking will be available at the Grace River Church lot on Maple Avenue.
- No water stops out on the race course, so please bring your own water if needed.
- Prizes will be awarded by age group like normal with a brief, physically distanced, awards ceremony at the conclusion of the race.
If you have any questions, please contact the Superintendent of Recreation Programs at 603.542.7019 or e-mail
Justin Martin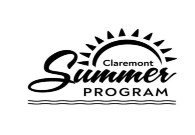 SAU #6 Summer Camp
*Camp registration will open on Monday, April 11th 2022.

The Claremont School District (SAU #6) and the Claremont Savings Bank Community Center are partnering to provided continued learning experiences for a five week period this summer! Students will arrive at Disnard Elementary School in the morning for 3.5 hours of academics. This will be an opportunity for students to get instruction in the areas of math, reading and writing. After a theme-based, learning-rich morning, we will provide lunch, snacks and transportation to afternoon activities. The afternoon will be full of enriching activities which will take place at Disnard Elementary School, Claremont Savings Bank Community Center, Arrowhead Recreation Area, Monadnock Park and more!
School bus transportation, to and from camp, will be made available for those that qualify.
Only sign the participant up for the weeks they will be attending. If they don't show up due to a vacation or other and they signed up for that week, they will be removed from summer camp entirely.
Participants must participate in the morning academic portion of camp to be eligible to participate in the afternoon enrichment opportunities.
*Please note that camp will start Tuesday, July 5 2022.
Items to bring on a daily basis:
Water Bottle
Change of Clothes
*Bathing Suit & Towel on Swimming Days
Sun Screen
Insect Repellent
CSBCC Hours:
Mon. - Thurs.: 5:30AM to 9:00PM
Fri.: 5:30AM to 7:00PM
Sat. & Sun.: 8:00AM to 6:00PM
Parks & Rec. Hours:
Mon. - Fri.: 9:00AM to 5:00PM
152 South Street
Claremont NH 03743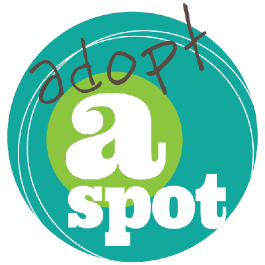 Adopt-A-Spot Program gives citizens, non-profits, businesses, and other organizations the opportunity to show pride in our community.

This program:
Reduces litter along roadways and park systems
Builds community support for anti-litter and roadway beautification programs
Educates the public about proper disposal of litter
Enhances the environment and beautifies Claremont parks and roadsides
Offers groups a project that gives its members the satisfaction of making a contribution to their community. At the same time, it generates publicity for the group's service activities.

Adopt-a-Spot volunteers will spruce up designated areas throughout the city by removing litter and debris, controlling weeds, planting trees and other plants, mulching, and identifying and eliminating hazards.

For more information on who can participate, where to adopt and how to apply please check out the Adopt-A-Spot Info. Page and the Adopt-A-Spot Application Form.