Claremont Parks & Recreation
The Claremont Parks & Recreation Department is dedicated to providing quality recreational facilities, programs and services to enhance the quality of life for the residents of Claremont and the surrounding region.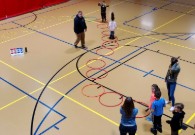 After-School Programming

Who: Open to MS & HS Aged Students
Date: Starts September 10 and is On-Going
Time: 2:30 PM to 3:30 PM (1) & 3:45 PM to 4:45 PM (2)
Where: CSBCC Gymnasium, Pool & Fitness Room
Cost: FREE to members, $6 for Non-Members

Register for an After-School Programming Slot by

CLICKING HERE!

Moody Park Spooky Ride

Claremont Parks and Rec. and Claremont Cycle Depot have joined up to present an outdoor, social distant event that will have riders heading for the hills.

Sign up for the Moody Park Spooky Ride. A haunted mountain bike adventure ride in Claremont's own Moody Park that is sure to crank out the fun. Approx. 2 mile novice loop full of twist and turns a few surprises and even a sweet treat.

Helmets are required for all riders. Bicycles must be in working order and riders must be familiar with riding trails. Costumes are welcome and encouraged but they must be safe when on the bike. Parents are welcome to accompany young riders by bike or on foot (if you can keep up)

Social distancing will be practiced and enforced.
Please bring a mask for check in and if needed out on the trail.

Who: Open to All
Date: Saturday, October 24th 2020
Time: 4 PM to 6 PM
Where: Moody Park
Cost: $5 for an individual, $10 for a family.

Register HERE!


Claremont's Drive-Boo Halloween 2020

The Claremont Parks and Recreation Department, Chamber of Commerce and Riverbank Church have been hard at work preparing an alternative to the traditional Hallowesta event on Pleasant Street. Due to the pandemic and the large number of participants the Hallowesta event draws, this year's version will be a drive-thru event held at Monadnock Park from 3 to 6 PM on Saturday, October 31, 2020 with participation from local individuals, businesses and nonprofits. This will be a fun thrill for the entire family with treats and spooky surprises throughout your journey.
Gates open for this event at 3 PM through the Broad Street Entrance to Monadnock Park Only. Participants will then make their way through the park with many decorated spaces and surprises along your journey. There will be 2 candy drop locations where you will receive the treat bags for all the trick-or-treaters in the vehicle via a special social distancing delivery system designed by Claremont Makerspace.

If you are looking to get into the Halloween Spirt beyond trick or treating, we would love for you to be involved in this event. We are looking for local businesses, organizations, sports teams, families, and individuals to be involved.

1. Set up, decorate and host a 10x10 space in a family-friendly Halloween theme.
2. Donate to our candy drive. Donations are being accepted at the Claremont Savings Bank Community Center through Friday, October 23rd.

If you are interested or would like more details on how to help, we ask that you please fill out the quick 2 minute survey below or call the Parks and Recreation Department at (603) 542-7019. We ask that all submissions are in by Wednesday, October 28th.
Claremont's Drive-Boo Halloween 2020
Who: Open to All
Date: Saturday, October 31st 2020
Time: Gates open at 3 PM, events ends at 6 PM
Where: Monadnock Park
Cost: FREE
CSBCC Hours:
Mon. - Thurs.: 5:30AM to 9:00PM
Fri.: 5:30AM to 7:00PM
Sat. & Sun.: 8:00AM to 6:00PM
Parks & Rec. Hours:
Mon. - Fri.: 9:00AM to 5:00PM
152 South Street
Claremont NH 03743
Share a Favorite Photo!
Some of our favorites!

Fall Festival / Chili Cook-Off & 5K
Pigskin 5K
Fitness Classes
Youth & Adult Sports Programs & Events
July 4th Celebration
Claremont's First Night
Lollipop Carnival

E-mail your favorite photo(s) to the Superintendent of Recreation Programs for a chance for it to be featured on this website or in the tri-annual program brochure!
Click Here!