Claremont Parks & Recreation
The Claremont Parks & Recreation Department is dedicated to providing quality recreational facilities, programs and services to enhance the quality of life for the residents of Claremont and the surrounding region.
With COVID-19 numbers rapidly increasing, we will be taking extra precautions at the Claremont Savings Bank Community Center and mandate that all patrons wear a mask while not actively exercising while in the facility.
Temperature screenings will now be required for entry to the Claremont Savings Bank Community Center.
Based on guidance from health authorities, anyone displaying a temperature of 100.4 F or above will not be allowed to enter the Claremont Savings Bank Community Center.
We will continue to update our members as we make changes to our operating procedures to ensure the safety of our users.
Adult Spring League Volleyball
Registration is now open for Adult Spring League Volleyball at the CSBCC. Sign-up your team today online or in-person at the CSBCC. First 8 teams to register will play! Season runs March 14th to May 2nd with all games being played on Sundays.
Team Registration
Individual Player Registration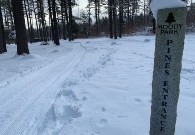 Moody Park has Groomed Trails for All!
Let's embrace the winter weather! Claremont Parks and Recreation Department, with the assistance of Claremont Cycle Depot, Inc.,have started grooming the trails at Moody Park for Snowshoeing, Cross-country skiing, and winter fat biking. To help maintain a useable surface for all winter activities, trail users should float on the surface of the groomed trail, not leaving deep tire tracks, ski tracks or foot prints. We hope you are able to get out and utilize our great park this winter.
Wilderness Survival Shelter Building Workshop
Come out and celebrate EARTH DAY with us!
Join us at Arrowhead for an afternoon of fun and adventure learning how to make a variety of survival shelters. This family friendly workshop will focus
on the importance of staying warm and dry in the woods and progress from simple, expedient shelters to more advanced structures using tarps and
natural materials. Participants will need to bring a daypack with snacks, water, work gloves and windbreaker/raingear. Wear clothing appropriate to
the weather and sturdy footwear. We will be hiking to the top of Flatrock Hill for part of the time so be prepared to be active!
Items to consider bringing along:
Lunch + water bottle/drink
Warm clothing (we'll be outside quite a bit)
Sturdy boots/shoes, preferably waterproof
Warm hat/work gloves
A backpack of whatever you typically bring hiking/hunting
Children under the age of 18 must be accompanied by an adult 18+.
Everyone will meet the instructor (James Esdon) at Arrowhead Recreation Area around 9 AM on Sunday, April 18 2021.
Register today!
CSBCC Hours:
Mon. - Thurs.: 5:30AM to 9:00PM
Fri.: 5:30AM to 7:00PM
Sat. & Sun.: 8:00AM to 6:00PM
Parks & Rec. Hours:
Mon. - Fri.: 9:00AM to 5:00PM
152 South Street
Claremont NH 03743
Share a Favorite Photo!
Some of our favorites!

Fall Festival / Chili Cook-Off & 5K
Pigskin 5K
Fitness Classes
Youth & Adult Sports Programs & Events
July 4th Celebration
Claremont's First Night
Lollipop Carnival

E-mail your favorite photo(s) to the Superintendent of Recreation Programs for a chance for it to be featured on this website or in the tri-annual program brochure!
Click Here!