Claremont Parks & Recreation
The Claremont Parks & Recreation Department is dedicated to providing quality recreational facilities, programs and services to enhance the quality of life for the residents of Claremont and the surrounding region.
With COVID-19 numbers rapidly increasing, we will be taking extra precautions at the Claremont Savings Bank Community Center and mandate that all patrons wear a mask while not actively exercising while in the facility.
As of Tuesday, January 5th 2021, Temperature screenings will now be required for entry to the Claremont Savings Bank Community Center.
You will be required to undergo a temperature screening with no-touch thermometers before entry to the CSBCC.
Based on guidance from health authorities, anyone displaying a temperature of 100.4 F or above will not be allowed to enter the Claremont Savings Bank Community Center.
Before you leave home, be sure to check your temperature as an extra layer of precaution.
Also, the CSBCC will not be taking on any room reservations.
We will continue to update our members as we make changes to our operating procedures to ensure the safety of our users.
CSBCC Fitness Classes
Come join your favorite ftiness class here at the CSBCC!
We are now offering LIVE ZOOM classes for all to take advantage of. We encourage you to check out our complete line of in-person and LIVE ZOOM classes online at
Claremontparks.com
.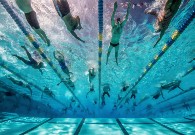 CSBCC Lap Swimming

Sign up for a lap swimming time at the CSBCC pool today!
*Check out the swimming pool schedule by clicking on the link on the right hand side of the page.

CLICK HERE TO SIGN UP ONLINE
Youth Basketball Registration

REGISTRATION IS NOW OPEN!
We are accepting Claremont reisdents only until January 8th, after that date, we will accept non-residents if space allows.

3/4 Boys Registration

3/4 Girls Registration

5/6 Boys Registration

5/6 Girls Registration
CSBCC Hours:
Mon. - Thurs.: 5:30AM to 9:00PM
Fri.: 5:30AM to 7:00PM
Sat. & Sun.: 8:00AM to 6:00PM
Parks & Rec. Hours:
Mon. - Fri.: 9:00AM to 5:00PM
152 South Street
Claremont NH 03743
Share a Favorite Photo!
Some of our favorites!

Fall Festival / Chili Cook-Off & 5K
Pigskin 5K
Fitness Classes
Youth & Adult Sports Programs & Events
July 4th Celebration
Claremont's First Night
Lollipop Carnival

E-mail your favorite photo(s) to the Superintendent of Recreation Programs for a chance for it to be featured on this website or in the tri-annual program brochure!
Click Here!