Claremont Parks & Recreation
The Claremont Parks & Recreation Department is dedicated to providing quality recreational facilities, programs and services to enhance the quality of life for the residents of Claremont and the surrounding region.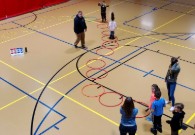 After-School Programming

Who: Open to MS & HS Aged Students
Date: Starts September 10 and is On-Going
Time: 2:30 PM to 3:30 PM (1) & 3:45 PM to 4:45 PM (2)
Where: CSBCC Gymnasium, Pool & Fitness Room
Cost: FREE to members, $6 for Non-Members

Register for an After-School Programming Slot by CLICKING HERE! Drive-In Movie Night - Toy Story 4 (PG)

*Due to the COVID-19 Pandemic this event will be in place of the Fall Festival & Chili Cook-Off.

Who: Open to All
Date: Friday, October 9, 2020
Time: Gates open at 5:30 PM; Movie starts around 7 PM
Where: Grace River Church Lot (Near Maple Lanes)
Cost: FREE
CSBCC Hours:
Mon. - Thurs.: 5:30AM to 9:00PM
Fri.: 5:30AM to 7:00PM
Sat. & Sun.: 8:00AM to 6:00PM
Parks & Rec. Hours:
Mon. - Fri.: 9:00AM to 5:00PM
152 South Street
Claremont NH 03743
parksandrecinfo@claremontnh.com
Share a Favorite Photo!
Some of our favorites!

Fall Festival / Chili Cook-Off & 5K
Pigskin 5K
Fitness Classes
Youth & Adult Sports Programs & Events
July 4th Celebration
Claremont's First Night
Lollipop Carnival

E-mail your favorite photo(s) to the Superintendent of Recreation Programs for a chance for it to be featured on this website or in the tri-annual program brochure!
Click Here!