Claremont Parks & Recreation
The Claremont Parks & Recreation Department is dedicated to providing quality recreational facilities, programs and services to enhance the quality of life for the residents of Claremont and the surrounding region.
Upper Valley Basketball Camp
This camp will be directed by Steve Condon. This one-week camp will feature instruction from current Stevens High School players and coaches. The daily schedule include drills for skill development such as, dribbling, shooting, defense, conditioning, gaining basketball knowledge, and team building
Who: Open to grades 3rd - 8th.
Where: Claremont Savings Bank Community Center Gymnasium
Cost: $125.00 for the week

For a complete list of COVID-19 protocols: CLICK HERE!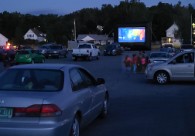 Drive-In Movie Night

Friday, August 7

Join us for a PG movie at The Grace River Church Lot on Maple Avenue (Across the street from NFR and next to Maple Lanes Bowling Alley!). The movie to be played is Dolittle.

Movie Info: A physician who can talk to animals embarks on an adventure to find a legendary island with a young apprentice and a crew of strange pets.

We ask that all families and/or individuals watch the movie either from their vehicles or in the space that will be designated to you for your vehicle. We thank you for your cooperation in this matter.

Parking/gates will open at 8PM.

Relax in the bed of your vehicle or bring a chair, this movie is FREE to All!

The movie will start at dusk.

As per the governor's direction, we are asking that all individuals maintain the 6 ft social distancing protocol at all times, we are also encouraging all participants to wear a mask to and from the event or when social distancing is not possible. We thank you for helping us make this event successful.
Mini Cardinal Football Conditioning

Come join the Claremont Mini Cardinal Football team in preperation for the upcoming season. Althought we are still waiting on a decision to be made as to if we will get to play games, we want the team to be ready to go when the time comes!
Who: All tackle football participants are welcome
Date(s): Starts Monday, August 3 to TBD (Mondays and Wednesdays)
Time: 5:30PM to 7PM
Where: Monadnock Park youth Football Practice Field/Area
Cost: FREE to registered youth tackle football players


CSBCC Hours:
Mon. - Thurs.: 5:30AM to 9:00PM
Fri.: 5:30AM to 7:00PM
Sat. & Sun.: 8:00AM to 6:00PM
Parks & Rec. Hours:
Mon. - Fri.: 9:00AM to 5:00PM
152 South Street
Claremont NH 03743
parksandrecinfo@claremontnh.com
Share a Favorite Photo!
Some of our favorites!

Fall Festival / Chili Cook-Off & 5K
Pigskin 5K
Fitness Classes
Youth & Adult Sports Programs & Events
July 4th Celebration
Claremont's First Night
Lollipop Carnival

E-mail your favorite photo(s) to the Superintendent of Recreation Programs for a chance for it to be featured on this website or in the tri-annual program brochure!
Click Here!