Claremont PD is home to one of new New England's leading K-9 programs.
---
The Claremont PD launched its K-9 program in early 2018 when Capt. Alex Lee in the department took the lead on a grant that eventually brought Maverick to Claremont.
Officer Maverick (The Veteran)
Maverick, a 60 pound Belgian Malinois, reported for duty on September 23, 2018 after he and his handler had trained at the Boston Police K-9 Academy for 14 weeks. Maverick has mastered the many basic aspects of K-9 patrol, including tracking/trailing, apprehension, building and area search, evidence recovery and narcotics.
Maverick likes having Sully on the force, but feels the rookie is a bit of a publicity hound.
Lee, a former New Hampshire State Trooper and K-9 officer of eight years, identified and applied for a $42,000 grant from the Stanton Foundation. In addition, he secured a $1,000 donation from the Hannaford Charitable Foundation, which funded related items such as a ballistic vest.
Maverick proved his worth at once and in his first two weeks, he helped an officer track and bring home safely a 9-year-old Claremont girl who had run away from home. He was also involved in three drug searches.
Maverick's skills in drug detection were welcome news to Mark Chase, Claremont's Chief of Police. "Our agency is tasked with keeping the community safe. We need as many tools as we can get. Maverick is one of those tools, and we're glad he's here." Chase highlights the need in the context of the over 1,000 overdose deaths in New Hampshire since 2017.
Maverick works the same 12-hour shifts as other officers, 36 hours one week, 44 the next. He and his trainer, Officer Petrin, also travel twice a month for in-service training and further skill development.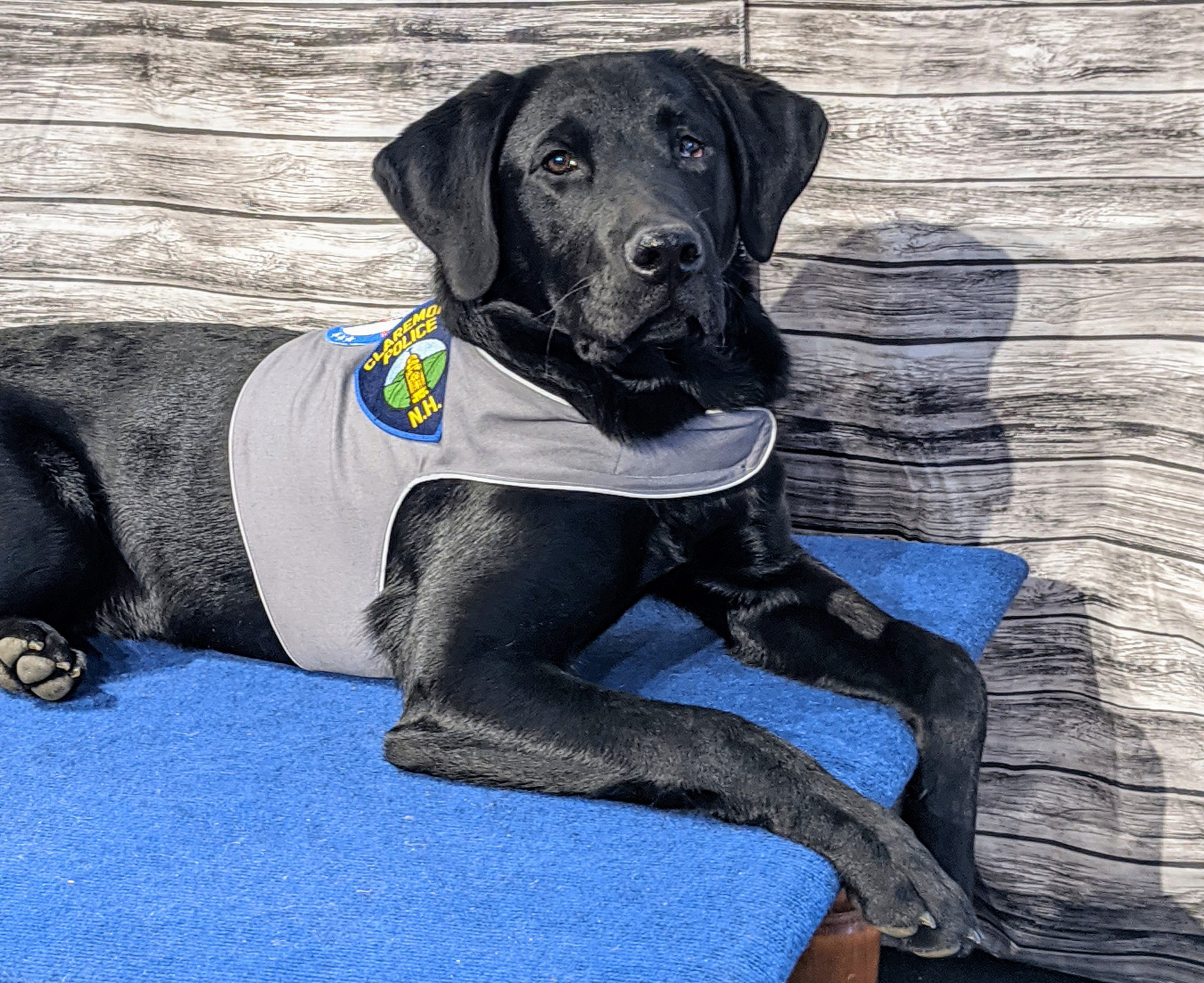 Officer Sully (The Rookie)
Please welcome Sully, the newest member of the Claremont Police Department and Claremont's new comfort dog! Sully's responsibilities will include supporting victims of all crimes, engaging with families and children during difficult times and being a resource that the community as a whole can access.
You can follow Sully on his Instagram page
The organization involved with this amazing dog is Hero Pups, a NH-based nonprofit run by volunteers that trains shelter and rescue dogs to become service dogs for veterans and first responders.
Training Day

A crowd of people got their first look at Maverick's skills at Claremont's 2018 Fall Festival. Officer Petrin and Maverick gave a demonstration that highlighted basic commands, drug detection and suspect apprehension. (Oh, and Maverick's 195 PSI bite strength.)