Moody Park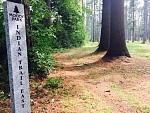 255 acres given in 1916 to the City of Claremont by William H. H. Moody includes a vast trail network and outdoor recreation opportunities. Bikers, trail runners and even adventurous walkers can explore the trail network in Moody Park by downloading a trail map below. Amenities include:
The vehicular traffic hours / gate will be open:
•
Starting on Memorial Day, through Labor Day – 8:00 AM to 9:30 PM (daily)
•
Starting the day after Labor Day, through Columbus Day – 8:00 AM to 9:30 PM (weekends only)
•
Fall/Winter/Spring – open to foot traffic only
*A permit, at no fee, is required for special event use including cook outs, get-togethers and birthday parties. To obtain a permit, visit the Claremont Savings Bank Community Center during the hours of operation or call 603-542-7019 for more information.
General park hours: 6:00 AM to 9:30 PM
« Back
|
VIEW PDF