Visitor Center Green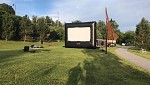 7 acres overlooking the sugar river. This area includes a pedestrian walking bridge connecting North Street to the Mill District and downtown. Amenities include:
•
"Ourhandsthenandnow" Sculpture Monument
•
Santagate Bridge – Sugar River Overpass
Always a busy area, this space encompasses a wide range of activities and events, from weddings and private gatherings, to the annual Chili Cook-Off / Fall Festival and Brewfest, you will be sure to find entertainment along the sugar river at this wonderful destination.
General green hours: 6:00 AM to 9:30 PM
« Back