Barnes Park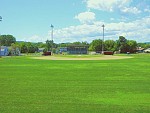 7.2 acres that is home to outdoor basketball courts, a playground, local baseball and football home games, as well as babe ruth summer baseball and much more! This Sports Complex and Recreation Facility encumbers a long-standing pastime in the Claremont, NH area. Amenities include:
•
(2) lighted basketball courts
•
Athletic fields (baseball & football)
•
Coach Ralph Silva Memorial
This city owned property is also home to many local events such as the back-to-school festival, rural pride and the brew-fest 5K.

General park hours: 6:00 AM to 9:30 PM
« Back